Game from the Script: Tao Te Ching
Tao= The way ahead, the path ahead, or the Way.
Te= Virtue or Righteousness
Ching= Scripture, Great Book or Doctrine.
Which translates to "The Scripture of the Way and the Virtue", "The Great Book of the Way and its Power", "The Doctrine of The Path and its Virtues" or "The Way of Virtue".
The Tao Te Ching can be summed up in one symbol. It also abbreviated into one word: Tao (oneness, balance, root of all things).

symbol of Tao Te Ching
According to tradition, the Tao Te Ching (or Dao De Djing) was written around the 6th century BC by the sage Laozi (or Lao Tzu "The Old Sage", Lao Tse, "Old Master"), a record-keeper at the Zhou Dynasty court (the Imperal court). Legend has it that Lao Tzu lived approximately 2500 years ago. Saddened and disillusioned at life and humanity, and that people were unable to follow the path of goodness, he left his position in the court. During that time he wrote down his spiritual teachings which was the Tao Te Ching – "The Way and It's Power" but otherwise known as 'The Way of Virtue'.
The Tao Te Ching has 81 chapters and is often divided into two parts.
Part one- The Book of Tao (chapters 1 to 31) and
Part 2- The Book of Te (chapters 38 to 81)

Lao Tzu (The Old Sage)
Tao is a universal principle and an individual way of being. The original and strongly upheld scripture is the Tao Te Ching but there are others that are equally important. Such as Chuang Tse (or Zuang Zi), Lieh Zi and Hua Hu Jing.
Chuang Tse (Zuang Zi) is also the name of the seven inner and twenty six miscellaneous and outer chapters of his book. Which was written by him and others. Chuang Tse is the second most important book to a Taoist.

Chuang Tse (Zuang Zi)
Lieh Zi contains 111 chapters. It emphasizes on the certainty of annihilation, resigning oneself to fate and avoiding too much effort in life.

Lieh Zi

The book of Lieh Zi
The scripture (or book) Hua Hu Jing is by an unknown author but said to be the collection of 81 chapters of the 'lost' writings of Lao Tse (The Old Sage). It was thought to have been banned for many years because of the controversies over it's authencity.

Hua Hu Jing. Said to be the later teachings of Lao Tzu (The Old Sage)
The Tao Te Ching is fundamental to the Philosophical Taoism and strongly influenced other Chinese schools, such as Legalism and Neo-Confucianism. The ancient book is also central in Chinese religion, not only for Religious Taoism but in Chinese Buddhism as well. Buddhism was largely interpreted through the use of Taoist words and concepts when it was introduced into China in the first Millennium.
[youtube http://www.youtube.com/watch?v=qPfh-isxqqU&w=580&h=390]
The basic core to all Taoist practise, expressed in Chinese as: Ching Chi Shen Wu Tao.
Ching (Life force) which gives rise to
Chi (Vital energy) which gives access to
Shen (Spirit) which achieves
Wu (Emptiness) which leads to
Tao (the root of all things)
Working on this, the basic life force (Ching) becomes chi (vital energy) which is a manifestation of energy. This energy permeates everything and is the aspect of life that is worked on mostly by Taoist. For when chi (vital energy) becomes stable and is no longer chaotic it begins to become more refined and ultimately gives access to Shen (Spirit).
When this state of awareness is reached, there is a sense of connectedness with the natural world and a depth of perception which enables consciousness of the natural flow of life.
It is the concept of Wu (Emptiness) that is so central to Taoism because by doing nothing (wu-wei) things are allowed to unfold. The aspect of wu-wei (doing nothing) doesn't mean being passive or taking much action, but rather understanding emptiness (Wu).
As stated, when we are prepared to recognize that to be 'immortal' is to ALLOW our energy to flow and be part of the greater whole, we have achieved the potential to be 'beings of light.'
Out of Taoism comes:
1) Feng Shui (Environmental Management)
2) Tai Chi Chuan and Chi Gung (Design to strengthen link to enhance energy)
3) Meditation and Inner Alchemy (Relationship with natural forces)
All Taoists use the I-Ching (the Book of Changes) and is especially used for Environmental management (Feng Shui). Feng Shui advocates arranging the living and workspace in a way that allows residents to benefit from positive energy lines that run through the environment. These energies are called by the Chinese or Taoist Sheng Chi (Dragon's cosmic breath).
Feng shui also offer guidelines on how to be aware of and deal with negative energy called Shar Chi (secret lulling breath) which also lurks in the enironment. These energy lines are harmful, it brings bad luck, loss, disease and misfortune. Feng Shui, literally means wind and water.
The I-Ching predates the scriptures attributed to Lao Tse (the Old Sage) and focuses on 5 elements of nature.

I-Ching (Book of Changes)
Five Elements are:
1) Water
2) Fire
3) Wood
4) Metal
5) Earth
The universe expresses itself into two directions of light energy. Everything in the universe is a spiral. Two directions of light energy moving in, and two directions moving out. The spiral of the universe, creates the Ying and Yang, otherwise known as Tao (oneness, root of all things).

Spiral of the universe. Two direction of light

Tao symbol, showing spiral of the universe. Opposites attract and creates balance. Two direction of light makes the Tao (oneness)
According to Lao Tse (The Old Sage), the two terms Ying (Female) and Yang (Male) take their meanings from the slopes of a mountain-shaded (North direction) and Sunny (South direction) together.
Spring and Summer are both Yang (Masculine) corresponding to the element wood which represents the East direction and Fire which represents the South direction.
Autumn and Winter are Yin and corresponds to Metal which represents the West direction and Water which represents the North direction. Only Water, Fire, Wood and Metal are classified as Yin or Yang. Earth is defined as central and neutral.
The five elements also symbolize five basic colours:
Elements………….Colour
Water…………….Black
Fire……………..Red
Wood……………..Green
Metal…………….White
Earth…………….Yellow
Added to the symbolism of the five elements, four animals represents the space (directions) used in Feng shui.
Animal………………………….Direction
Dragon………………………….East
Red Bird or Phonenix……………..South
White Tiger……………………..West
Tortoise, Enlaced by Snake………..North
The I-Ching was originally a manual of explanation of the entire laws of the universe, and only later became a book of divination. If we are to live in harmony with Nature then we must have some information as to how to do this in the most effective way possible and this was the basis of the I-Ching.
When consulting the I-Ching, three coins are shaken in the hand and then thrown onto a flat surface, therefore adding up to a total of either six, seven, eight or nine, which are mixtures of head and tails.
The coins are thrown six times in all, giving a hexagram of six times. Hexagrams are always inscribed from the bottom of the page to the top, in accordance with Chinese Language.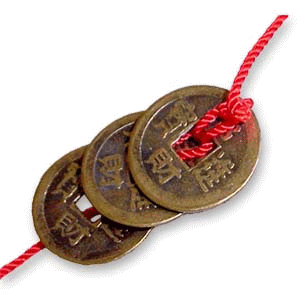 Three coins used in I-Ching (Book of Changes)
In the coins, Head is Yang, with value 3 (odd numbers are Yang- Masculine)
Tails is Yin, with value 2 (even numbers are Yin-Feminine)
The Five Elements: Dynamic Processes (Observations)
Water: Wet, cool, descending, flowing, yielding
Fire: dry, hot, ascending, moving
Wood: growing, flexible, rooted
Metal: cutting, hard, conducting
Earth: productive, fertile, potential for growth
Each phase or element relates to the others—either supporting, being supported by, controlling or being controlled by them when an element is unbalanced, difficulties can be caused by either excessive or deficient activity in each phase.
………………..WOOD…..FIRE…..EARTH……..METAL…..WATER
SAESON…………. Fire…..Summer…Late Summer..Autumn….Winter
DIRECTION………..East…..South….Centre…….West……North
CLIMATE………….Wind…..Heat…..Dampness…..Dryness…Cold
COLOUR………..Blue/Green…Red…..Yellow……..White…Blue/Black
TASTE……………Sour…..Bitter….Sweet…….Pungent…Salty
SMELL…………..Rancid….Burnt….Fragrant…..Rotting…Putrid
YIN ORGAN (Zang)….Liver….Heart…..Spleen…….Lungs…..Kidney
YANG ORGAN (Fu)….GallBl…SmIntest..Stomach….LrgInstest..Bladder
ORIFICE…………Eyes……Tongue….Mouth……..Nose……Ears
TISSUE…………Tendons….Bloodv….Muscles……Skin……Bones
EMOTION…………Anger…..Joy…..Pensiveness….Grief…..Fear
VOICE…………..Shout…..Laugh…..Sing………Weep……Groan
Knowing the elements and how they are connected can be used to prescribe medicine and cure. This is how the chinese find out symptoms and is better known as chinese medicine.
Fire is supported by Wood
Wood supports Earth
Earth is controlled by Water
Water controls Metal

Five elements in their associated directions. The support and control goes clockwise. The five elements and support and control make the five pointed star
Fire represents the heart and the SHEN (Spirit)
Earth element rules the Spleen and YI (Mind)
Metal rules the lungs and PO (Human Soul)
Water relates to the Kidney and ZHI (Will)
Wood elements rules the liver and HUN (The Heavenly Soul)

I-Structure with the five elements. Each element has it's own symbol to signify Yin or Yang

I-Ching Structure
Wu-wei (doing nothing) is non-action and action, emptiness and no-thingness all rolled into one.
Though you lose the body, you do not die.
To die but not perish is to be eternally present.
Tao: Little Men are controlled by force.
Evil Men are controlled by Law.
Gentlemen are guided by Propriety.
Gage are guided by Righteousness.
Terrestial Immortal are guided by Love.
Celestial Immortal are guided by Perfect Virtue.
Transformed Immortal are guided by Tao.